Sacred Spine Clearings and Activations with Julia Stubbe
The spine is the central point for connecting our physical and spiritual energy bodies.
Schedule Your Session
Sacred Spine Clearing and Activations
The spine is the central point for connecting our physical and spiritual energy bodies there are many benefits to having a Sacred Spine Clearing and Activation.
Through this process we work with the key points/portals of the spine including the Sacrum and Coccyx. These 33 portals are the gateways to energies such as enjoyment, manifestation, abundance and many others.
What others have experienced:
"I had the opportunity to work with Julia and to work with the feeling of forgiveness. I wasn't sure what to expect going into the call, but I was open to receive whatever energy was needed. I had chronic tension in my neck, and following Julia's work, I could put my chin toward my chest. Something I could not previously do without tension or pain. Even now, six days later and just starting a workout routine, I can bring my chin fully down. During the process, I felt calm and relaxed and lots of tingly energy. It was truly a lovely experience!" – Judy D.
"I've suffered from a chronic back pain for several years. I felt called to practice Julia's clearing and releasing meditation, which works in a cellular and DNA level. After three days I have been feeling less pain and I have also been able to get up more easily." – Dora L.
"I very much enjoyed our session today working on the key points of the spine. There was a lot of density in my higher heart earlier, due to a soulmate contract and my thymus area now feels much lighter. My mind in general is much clearer and I even think my back/spine itself feels more flexible and loose. I look forward to trying the rest of the points! Thank you so much!" – Areya A.
"I had a beautiful experience with Julia as we activated 3 key point portals of my spine (out of 33 WOW). It was a flowing experience as we activated these 3 points because Julia sets up the space starting with her wonderful Apple flow that gets your energies ready for the experience that is about to happen. I really enjoyed the healing and learning that these points even exist. There is always something new to experience with Julia. As Julia and her team look for the next thing to offer the collective." – Lane E.
Would you like to experience this process and the benefits it has to offer? I am currently offering a personal one on one sessions in which we will clear and activate 3 key point portals of the spine for a an introductory price of $55 USD
Sacred Spine Clearing Payment (20 minute session)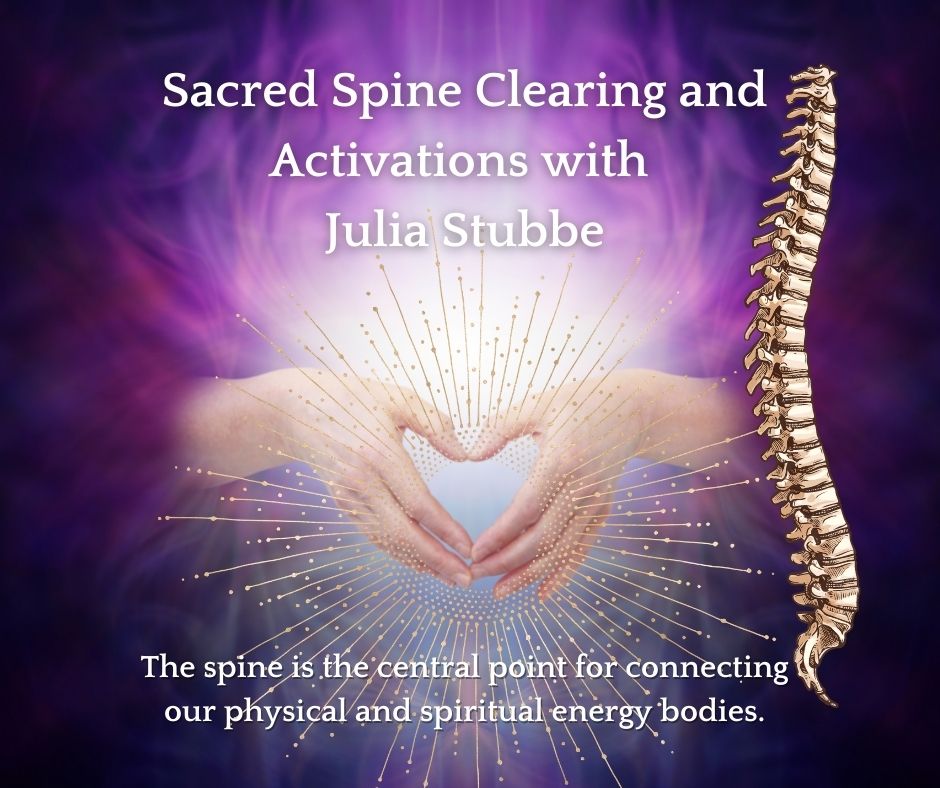 From the moment we gathered for my session, Julia made me feel comfortable and at ease. Her calm yet playful nature is appealing to me. Together we cleared ancestral blocks and went on to upgrade my dna. wow! I left the session feeling a distinct positive shift within. I would recommend Julia and her amazing gifts of healing for your spiritual journey.
My love and gratitude to you, Julia!
~KT
Julia provided me a sacred space to grow and helped to light the path back to myself. Before our healing session, I was feeling a disconnect from my true self and felt lost as to how to draw that bridge. It was the one hour with Julia that I was able to not only feel the shift inside me, but to also visualize that bridge! Afterwards my body was tired from the vast downloads, alignments and activations - but on day 3 I woke up feeling JOY from every fiber of my being just radiate around me! I'm feeling so much more myself than I had the last year and I am just so grateful Julia paved the way back to myself.  – Christine B.
Julia has the amazing ability to channel profound healings, I could feel my body vibrating just laying on the table. Once she began, the amount of energy coming through was intense yet easy. I highly recommend a session with Julia for healing, releasing, or just to relax. I am so grateful to have met her and I look forward to my next session. – Nikole, PA
Cancellation Policy
We understand that situations change and you may wish to cancel a session after you have purchased it. You must request a refund in writing by email to our customer support contact, they are not automatically generated. We allow one cancellation/refund per customer, as long as the appointment has not been completed. Refunds are not provided for completed Transformation Sessions, Galactic Readings or Personal Transmission sessions under any circumstances.
Refunds are provided in accordance with our stated refund terms and are processed within 3 to 5 business days of your request. The following policies govern refunds by product or service type.
Common sense disclaimer: If you have a medical condition, please seek proper professional medical treatment.