Blue Star "Seeding" Journey

REGISTRATION IS CLOSED FOR THIS EVENT
Did you miss the live
Blue Star "Seeding" Journey?
You can get access to the video today!
View the video playback for only $33.33
Join me, Julia Stubbe for a multidimensional journey throughout the galaxy visiting and interacting with multiple high energy Blue Stars, including Rigel, the brightest star in the constellation Orion and the blue supergiant Eta Carinae. Among others, we will also be visiting the Seven Sisters in the Pleiades constellation.
During this journey, we will travel through our Divine Heart, with our third eye, and the power of group merging. The group merging makes it easier to journey to the celestial realms or different star systems. Receiving seeds from these high vibrational blue stars, these seeds include powerful codes which include activations, star-gate alignments as well as other starseed blessings. These are all part of the cosmic Divine heart-oriented approach to ascension.
When we connect with celestial energy we activate our quantum DNA, through light coding transmissions. These transmissions advance our expansion and ascension. When journeying to a star system you can expect to experience other realities, engage with star beings, receive healings, activations, and channel energy and information through your body into this reality. It is truly magical.
Session: LIVE 90 minute ZOOM on Saturday December 12th, 2020 plus Audio & Video Recordings of session.
Time: 12:12 pm EST/11:12 am CST/9:12 am PST/5:12 pm GMT/4:12 am Tuesday Sydney
After the teachings are complete for the session, we will turn off the video during our journey, as we will be in a comfortable position with our eyes closed. Participants are requested to wear eye masks, as total darkness helps facilitate ease in entering the sacred and tiny space of your heart, with the third eye for travel. Audio will be live and earbuds are recommended, as Julia channels information during the journey.
REGISTRATION IS CLOSED FOR THIS EVENT
Did you miss the live
Blue Star "Seeding" Journey?
You can get access to the video today!
View the video playback for only $33.33
Other Journeys you might be interested in: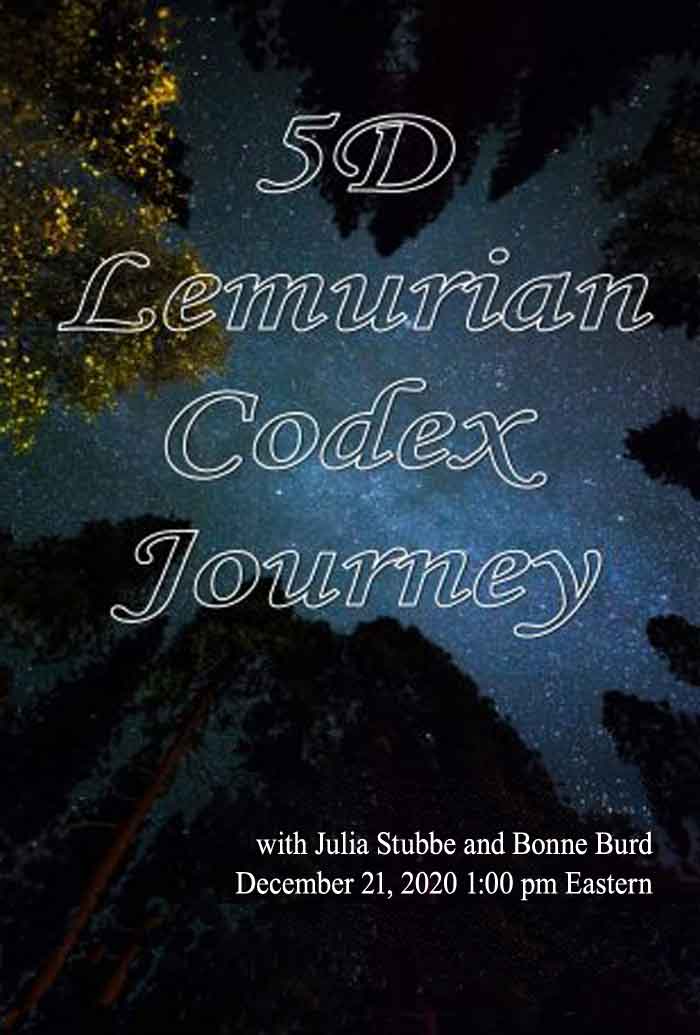 5D Lemurian Codex Journey
Julia Stubbe and Bonnie Burd December 21st, 2020, at 1:00 pm Eastern
Cancellation Policy
We understand that situations change and you may wish to cancel this event after you have purchased it. You must request a refund 2 days prior to the event in writing by email to our support mailbox, they are not automatically generated. We allow one cancellation/refund per customer, as long as the event has not been completed.
Refunds are provided in accordance with our stated refund terms and are processed within 3 to 5 business days of your request.
Common sense disclaimer: If you have a medical condition, please seek proper professional medical treatment.